Dental Implants
Dental implant (Fixture) is an artificial root and tooth. Usually, manufacturers use titanium to make implant. As we know, titanium is highly biocompatible. Therefore, Dental implants are surgically placed into the upper or lower jaw bone. Implants can be used as anchors for many different types of tooth replacements.  Those include single tooth, bridges, partials, and dentures. These implant restorations replace the missing teeth, and then this allows you to bite and chew comfortably as your natural teeth. Thus, an implant is an ideal option if you want to address issues like sore gums, repeatedly loose and clicking noises associated with regular partials or dentures. (Appointment Online Now)
Missing Tooth before Dental Implant Placing: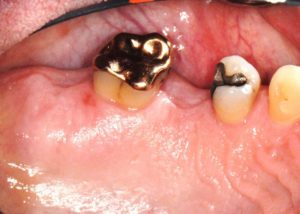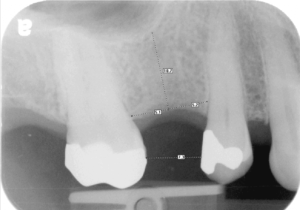 Dental Implant replacing the Missing Tooth: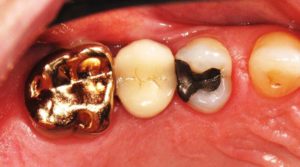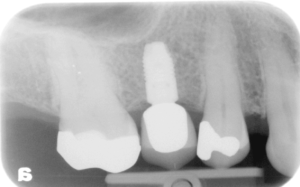 Dental Implant in Sunshine Smile Dental at Lewisville
Dr. Zhang is an expert in dental implant placing.  From 2011-2014, Dr. Zhang has finished his dental implant training at Indiana University School of Dentistry.  Furthermore,  he has placed more than 100 implants during his previous practice. Usually, customers consider dental implants as an expensive dental procedure. However, Sunshine Smile Dental offers affordable quality dental implant from $ 2,399 (including implant, abutment, and crown). This can greatly release the financial burden on our community residents. At the same time, we will use all American-made dental implant.  THus, this will not sacrifice quality of dental implants. For more details of this offer, please contact our 24/7 phone 469-630-1369.  (Appointment Online Now)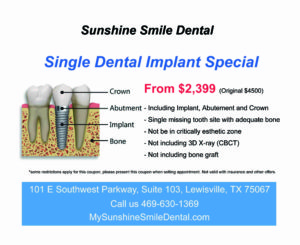 Dentist of Sunshine Smile Dental at Lewisville provides affordable quality dental care to adults and kids. (Appointment Online Now)  Contact us by 469-630-1369 or visit us 101 E Southwest Parkway Suite 103, Lewisville, TX 75067. Follow us on Facebook, Tweeter, Google+, and YouTube.