Wisdom Tooth Extraction
Wisdom teeth are the third and last molars on each side of the upper and lower jaws. They are also the final teeth to erupt.  They usually come in when a person is in their late teens or early twenties.  It is better to have wisdom tooth extraction evaluation at that age.
(Appointment Online Now)
Wisdom teeth can only partially emerge or come in crooked.  They can be enclosed within the soft tissue and/or the jawbone.  Or they can only partially break through or erupt through the gum. This can also lead to painful crowding and disease. The partial eruption of the wisdom teeth allows an opening for bacteria to enter around the tooth and cause an infection.  This can result in pain, swelling, jaw stiffness, and general illness. Partially erupted teeth are also more prone to tooth decay and gum disease.  Their hard-to-reach location and awkward positioning makes brushing and flossing difficult.  As wisdom tooth extraction before age 20 has fewer complications due to less developed root.  Thus, the American Dental Association recommends that people between 16 and 19 have their wisdom teeth evaluated to see if they need to be removed.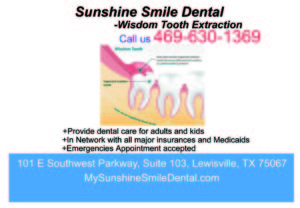 Wisdom Tooth Extraction at Sunshine Smile Dental Lewisville
Sunshine Smile Dental at Lewisville provides service of wisdom tooth extraction and surgical tooth extraction. Furthermore, we also provide nitrous oxide, oral sedation, intravenous sedation for the anxious patients.  However, we refer full bony impaction wisdom tooth to oral surgeon due to the difficulty of extraction.
Sunshine Smile Dental at Lewisville is in-network with most PPO insurances (complete list): Aetna, Assurant, BCBS, Cigna, Delta Dental, Guardian, Humana, MetLife, Principal, Sun Life, United Concordia, United Healthcare, etc.  We also accept kid CHIP and Medicaid (Dentaquest, MCNA, and TMNP). Additionally, emergency dental service is available. (Appointment Online Now)
Dentist of Sunshine Smile Dental at Lewisville provides affordable quality dental care to adults and kids. So,  Contact us by 469-630-1369, or visit us 101 E Southwest Parkway Suite 103, Lewisville, TX 75067. (Appointment Online Now) In addition, Follow us on Facebook, Tweeter, Google+, and YouTube