Dental Exam:
A dental exam is a dental and oral checkup.  A dentist performs a dental exam to carefully review your oral and tooth health.  Dental exams typically involve the entire mouth. There are several dental exams.  A first-time visit and a regular 6-month check-up are most common.  Limited oral exams can also identify a specific issue in one particular area, such as pain, swelling, etc. American Dental Association (ADA) recommended visiting the dentist every six months.
During visiting Sunshine Smile Dental at Lewisville, Lewisville dentist performs a dental exam and taken X-ray if necessary. Lewisville dentist will review your digital dental X-rays. Lewisville dentist may use an explorer to check your teeth and gums.  In addition, Lewisville dentist will examine any dental restorations such as fillings or crowns to make sure them in good shape. If you have a denture, Lewisville dentist will ask you to remove them for the examination
In Sunshine Smile Dental at Lewisville, Lewisville dentist can spot the signs of problems such as cavities or gum disease.  And then dentist help you proactively take care of them. Your regular dental checkup is a great time to ask your dentist about any questions you may have about your oral health. Furthermore, your dentist can review tips and techniques for good brushing and flossing habits to keep your smile as healthy as possible between visits. In some cases, your dentist may refer you to your physician for certain issues.
Dental Exam for Children
At Sunshine Smile Dental at Lewisville, we recommend that parents bring their children for oral exams beginning at 6 months.  We also recommend a recall visit for children every 3-6 months after the initial dental exam.  Bringing your child early and regularly is important to establish children's confidence and comfort during regular dental visits.  Furthermore, this can create a positive relationship with the dentist.
During a dental exam, the dentist will clean your child's teeth and evaluate their risk of tooth decay. A dental exam for children might include the application of various protective measures — such as sealants or fluoride treatments. This procedure can reduce the risk of decay. In addition, the dentist will likely discuss your child's diet and oral hygiene habits and demonstrate proper brushing and flossing techniques. A dentist may also have a discussion about preventing oral injuries, oral piercings, etc.
About Sunshine Smile Dental at Lewisville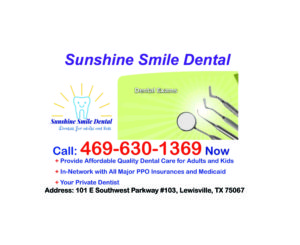 Sunshine Smile Dental is at 101 E Southwest Parkway Suite 103, Lewisville, Texas 75067.  The goal of Sunshine Smile Dental is to provide affordable quality dental care to the families of Lewisville and surrounding areas (Coppell, Flower Mound, etc).  Thus,  Lewisville dentist offers a full range of dental services to adults and kids (>6 months old), as well as procedures of endodontics (root canal), periodontics (gum), wisdom tooth extraction, implant, clear aligners & Braces, and pedodontics (child).
Sunshine Smile Dental at Lewisville is in-network with most PPO insurances (complete list): Aetna, Assurant, BCBS, Cigna, Delta Dental, Guardian, Humana, MetLife, Principal, Sun Life, United Concordia, United Healthcare, etc.  We also accept kid CHIP and Medicaid (Dentaquest, MCNA, and TMNP). Additionally, emergency dental service is available.  Make Appointment Online Now.
For details about our services, please call 469-630-1369 or visit our office 101 E Southwest Parkway, Lewisville, TX 75067. Follow us on Facebook, Tweeter, Google+, and YouTube